lazyme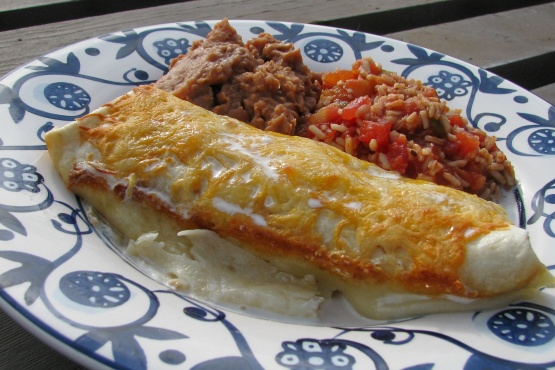 A great recipe for leftover turkey. You can also replace the turkey with chicken. No recipe is sacred with me. Even though I added things and skipped others, this enchilada recipe was an excellent omlette topped with salsa verde and sour cream. The squeeze of lime really made it. Yum!.....OK....I omitted the green onions, opted for jack cheese instead of cheddar, used a regular jalepeno minus the seeds, skipped the cumin, and don't forget that squeeze of lime. I will garnish with cilantro next time, and there will be a next time. I might even experiment with a tiny bit of tequila; in the enchilada, not me.
In a large skillet, add margarine and saute onions, then add garlic powder, seasoned salt,chili powder, green chilies, and cayenne pepper.
Stir in cream cheese, heat and stir just till cream cheese melts.
Add diced turkey or chicken,.
Spread out 8 tortillas and spoon about 3 heaping tablespoons of turkey-cream cheese mixture on each tortilla. Use all turkey mixture.
Roll up tortillas and place seam-side down in lightly greased 11x15 baking dish.
Pour whipping cream over enchiladas and sprinkle cheese over enchiladas.
Bake uncovered at 350°F for 30 minutes or till cream and cheese are bubbly, but not brown.