Tisme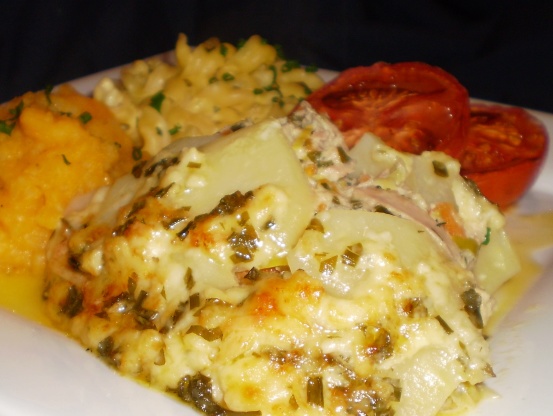 This is from a magazine promo advertising Sirena Tuna - there are lots of things you can alter to your own taste eg. change the herbs or use lite cream or 1/2 milk and 1/2 cream like I did .

Top Review by Tisme
This recipe was so easy to make. I only made one substitution, and that was using cheddar and tasty cheese together. I really loved this and enjoyed it tonight for dinner, although DH liked it he thought it needed something else, but then he is not a lover of either casserole type meals or tuna.
Well the main thing is I liked it very much and really enjoyed it.
Thanks katew
425

g canned tuna, drained

1

large leek, washed and thinly sliced

2

medium carrots, diced

2

tablespoons dill, chopped

2

tablespoons parsley, chopped

1

egg, lightly beaten

500

ml cream

500

g potatoes, thinly sliced

1

cup tasty cheese, grated
Preheat oven to 185 degrees celsius.
Heat a little oil in large saucepan.
Cook leek and carrot for 10 - 15 minutes till tender.
Turn out heat.
Add tuna, herbs,egg and cream.
Stir gently to break up any chunks of tuna.
Pout into baking dish - 15 x 25 cms.
Layer potato over the top - overlapping the slices.
Cover with foil and bake for 25 minutes.
Remove foil and sprinkle with cheese.
Bake further 30 minutes till cheese bubbling and serve.