flower7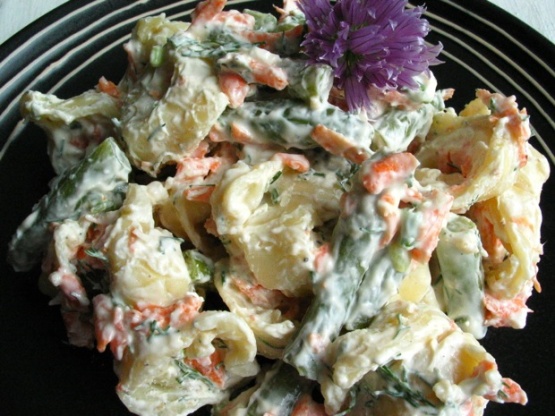 from William Sonoma. We had this at an engagement party recently and I was so happy to be told where the recipe is from! If you want to use dried herbs to taste, go ahead and just use your best judgement and use them to your taste.

This was very nice! The tortellini I had only took 3 minutes to cook, so I cooked the beans for about 5 minutes first, then added the pasta (I like my beans a little more cooked). I left the carrot raw and left out the milk. Otherwise, made as directed. Thanks for sharing!
Set a large pot of water on to boil according to package directions.
Next, make the dressing, in a small bowl, using a wooden spoon, mix together the cream cheese, yogurt, dill, chives and garlic until smooth. Season with salt and pepper. Set the dressing aside.
Next, add pasta to water when it is boiling and cook according to package directions.
Meanwhile, shred the carrot set the shredded carrot aside.
When pasta has about 3 minutes to go add the green beans to the pot.
When the pasta has about 1 minute to go add the carrot to the pot.
Drain and Rinse the pasta and vegetables with cold water and drain well again.
Dump the drained pasta and vegetables into a serving bowl. Add the dressing and the milk. Gently toss the salad with the wooden spoon until well blended. Season with salt and pepper. Serve warm or chilled.