diane525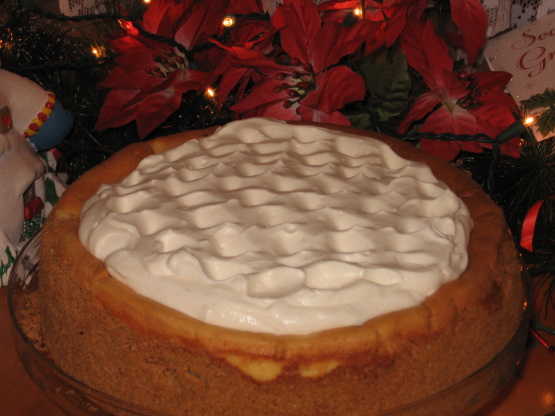 This is my family's favorite cheesecake--it's fluffy and creamy--not a dense cheesecake. Topped with a sour cream whipping cream topping---delicious!
In small bowl, combine the cracker crumbs, sugar and cinnamon; stir in butter. Press onto the bottom and 2 inches up the sides of a 9" spring form pan. Bake at 350°F for 5 minute. Cool on wire rack.
Reduce heat to 325°F
In mixing bowl, beat cream cheese, sugar and vanilla until smooth. Add egg yolks; beat on low speed just until combine. Transfer to another bowl. Wash mixing bowl. Beat egg whites until a soft peak forms; fold into cream cheese mixture.Pour over crust. Bake 1 hour until center is almost set. Cool on wire rack. Carefully loosen with a knife the edges and let cool another hour. Refrigerate until completely cooled.
Whip the whipping cream in a mixer bowl, Combine the sour cream, sugar and vanilla and fold into the whipped cream. Spread over the top of the cheesecake. Refrigerate overnight. Remove the sides of the pan.