Parsley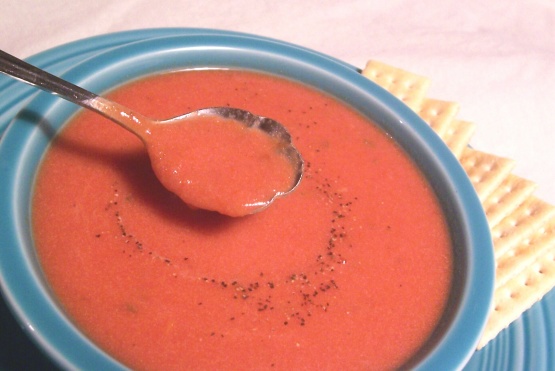 One day with a craving I was surprized that there was only one recipe on the zaar site for tomato soup. This is a very simple recipe that is both healthy and tasty.

This is a yummy, low-fat soup! It's so easy to make, and I made it even easier by heating everything in the soup pot, then using my immersion blender, I pureed everything right in the pot....then let it simmer for 15 minutes. I added 1 extra can of stewed tomatoes and it was still creamy and yummy...even with lowfat milk! For a real treat sometime, I may make this with part heavy cream for the milk. Loved this soup. Thanx for posting; I'll be making it again!
In a medium pot, heat the milk over moderate heat.
Put the crushed tomatoes in a food processor and process until smooth.
Pour the processed tomatoes into the milk and stir to combine.
Put the chopped onion, garlic, celery, stewed tomatoes, tomato paste, flour, sugar, salt and pepper into the processor and process until the mixture is a smooth grind.
Pour this mixture into the milk mixture and stir to combine.
Bring the soup to a boil and then reduce the heat and simmer for 15 minutes.