Ingy1171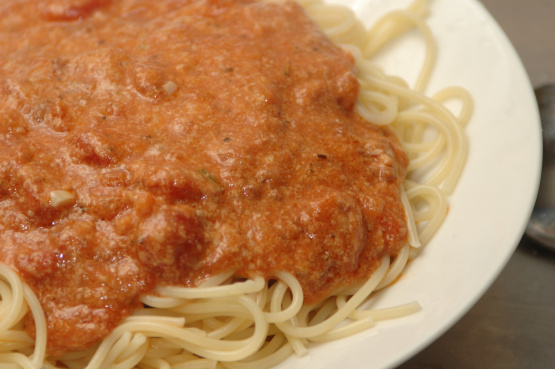 A quick and easy way to dress up spaghetti. Add red pepper flakes to the browning meat if you want some zip.

This is a great recipe base to go off! I did make some changes to suit my family's tastes: I added a nice Burgundy wine, some thyme (as well as your suggested herbs), and I added the parmesan cheese to the sauce as it cooked along with a few handfulls of grated mozzerella cheese to make it a real creamy delight. I will definitly use this one again. Thank you!
Brown meat and onion in a large saucepan.
Add garlic, tomatoes, herbs, sugar, salt and pepper Bring to a boil, reduce heat to low and simmer 15 minutes.
Stir in cream and heat through.
Serve over pasta and top with cheese.