Creamy Tomato and Summer Herb Soup
Boomette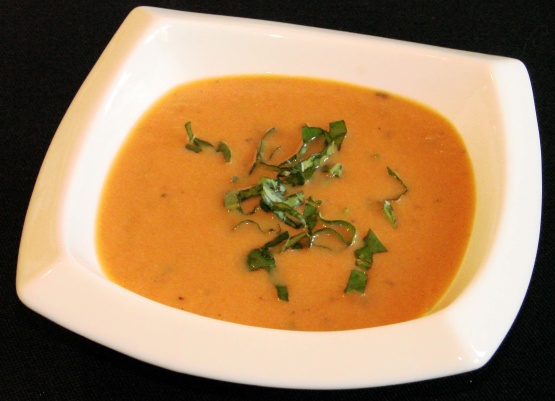 This creamy tomato and summer herb soup takes less than 25 minutes to prepare and can be served hot or cold. I prefer it hot. It is bursting with flavor and contains a full serving of vegetables in each bowl. Tarragon is the herb of choice in this version of the recipe, but chopped basil or even mint would work, too. While some creamy soups are made with heavy cream or sour cream, this one gets a rich, tangy flavor from a modest amount of reduced-fat sour cream. If you like, you can use low-fat plain yogurt instead. The soup is best when made with ripe tomatoes, but a 28-ounce can of diced tomatoes with their juices can be substituted in a pinch. For a complete light meal, serve this soup with a salad and a few slices of grilled whole-grain baguette.

What a wonderful and healthful way to use up an overabundance of tomatoes! I doubled this and it served three as a main dish - used fresh basil instead of the tarragon and really loved the refreshing taste. I didn't have much success using the strainer, too much of the good stuff wasn't getting through. My food processor does a pretty good job getting everything blended up so I won't bother with the strainer next time - makes it even easier to prepare! Made for Newest Zaar tag.
In medium saucepan, heat the oil over medium.
Add the onion and saute until softened, about 4 minutes.
Add the tomatoes and water, then bring to a boil.
Reduce heat and simmer until the vegetables are tender, about 5 minutes.
Transfer the soup to a food processor or blender and puree until smooth, in batches, if necessary (use caution when blending hot liquids).
Set a strainer over the saucepan.
Pour the puree through the strainer, pressing on the solids with a wooden spoon or spatula to extract as much of the pulp as possible; discard the seeds and skin.
Whisk the sour cream and tarragon into the soup.
Stir over low heat until the soup is hot, but not boiling.
Season with salt and pepper.