Creamy Tomato and Lentil Slow Cooker Soup
FoodGays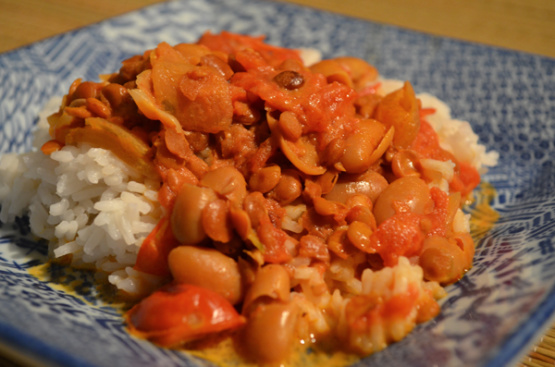 a spicy soup based on a Breville recipe in the slow cooker's sample recipes. I have modified this a bit - see which version you prefer.Originally it included 4 cloves garlic, 3 tsp minced chilli and you stirred 1/3 cup sun dried tomato pesto through at the end. I found this too hot. Even this version is fairly spicy but yummy! Next time I make it I will leave out the chilli altogether and just add sun dried tomato pesto.

Very tasty creamy tomato soup with some ajustments.My only problem with this recipe was the lack of salt ,so I added this to mine and the fact that it took forever to cook the lentils .I set my slow cooker on high and it took 7 hours for the lentils to become cooked. Apparently acidic foods like tomatoes make lentils take a longer time to cook in the slow cooker ,so next time, I will cook them in the broth for a few hours and then add the tomatoes.
Heat oil in a non stick pan. Cook onion over medium heat until golden. Add garlic and chilli and cook for about 1 minute.
Place onion mix in slow cooker. Stir in tomatoes, stock, tomato paste, brown sugar and lentils.
Cover with lid and cook on LOW 6-8 hours or HIGH 4 hours.
Stir in cream 1/2 hour before end of cooking, replace lid and continue to cook.
The orginal recipe says to ladle into bowls and top with 2 tsp sundried tomato pesto. Serve hot with crusty bread.