Creamy Thai Carrot Soup (Vegan)
Verduras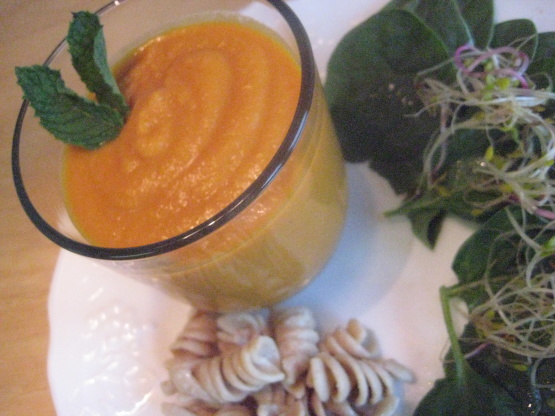 An adapted recipe from Weight Watchers. Silken tofu replaces cream or milk for a lower fat, lower calorie soup. Increase or decrease the spiciness factor by using more or less gingerroot and/or curry paste. Thanks DJ for the recipe! (And you know who you are!) ;)

I just made this recipe, which I got on the WW website and loved it. I checked to see if it was here and it is, thanks! Tasty and full of great veggies for very few calories. It is in my winter cooking repertoire for sure.
*NOTE: Thai curry paste available at Asian markets or make your own using recipes off this site.
In a medium saucepan, bring broth, carrots, onion, garlic and ginger to a boil over medium-high heat. Cover, reduce heat to low and simmer for 15 to 20 minutes; until carrots are tender.
Stir in Thai curry paste and salt; simmer 1 minute to blend flavors. Remove from heat; cool slightly.
Add tofu to saucepan and puree in soup pot using an immersion hand blender (or in batches in a blender) until smooth.
Serve mint leaves on side. Yields about 1 cup per serving.