Creamy Swiss Eggs on Biscuits
Nimz1466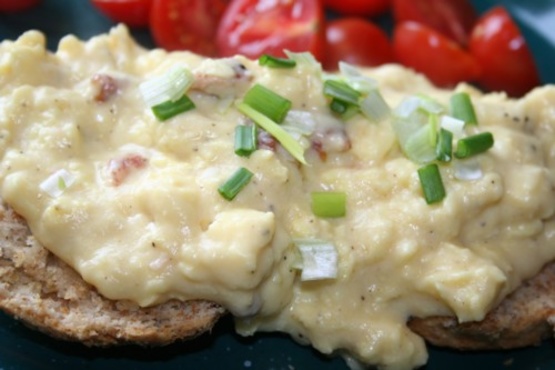 Good for breakfast but we like it for supper, too.
6

eggs

2

green onions, sliced

1

can cream of chicken soup, with herbs,undiluted
2⁄3 cup milk

1

cup shredded swiss cheese
1⁄4 cup cooked crumbled bacon

4

hot biscuits (tinned, frozen, or homemade)
In a bowl, beat eggs.
Add the green onions; stir to combine.
Add margarine to a skillet over medium heat; let melt.
Add egg mixture; cook/scramble for 4-5 minutes or until eggs are firm but still moist.
In a small bowl, add the soup, milk, cheese, and pepper to taste; stir to mix.
Add to the eggs; stir gently.
Cook until well heated.
Split 1 hot biscuit on each plate; top with egg mixture; sprinkle with crumbled bacon.