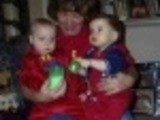 This is a quick way to make a tasty, rich vegetable. Use fresh or frozen corn. It just takes minutes to simmer and have it ready.
Directions
Combine all ingredients in a pan, bring to a boil over medium heat, reduce heat and simmer uncovered for 6-8 minutes, stirring frequently.
Most Helpful
Was looking for a quick fix for fresh corn and this fit the bill. Loved that I could taste the corn, not just butter and cream. Made a bunch and froze some for later. I used bicolor corn cut from the cob and did not find it overly sweet. A little pepper makes a nice addition, too. Thanks for sharing the recipe!

I used frozen corn for this. It was way too sweet and as the other reviewer said some flour is needed for thickening. It was sloshy, sort of like creamed corn for dessert. I don't mean to be rude, but we were very disappointed.
Sweet like eating dessert! Need I say more. I used left over corn on the cob that was cooked. I cooked the sauce for 5 minutes before adding the kernels. I think a little flour to thicken the sauce and give it more creaminess would be a good thing.