Creamy Sun-dried Tomato,Roasted Red Pepper and Artichoke Pasta
tamalita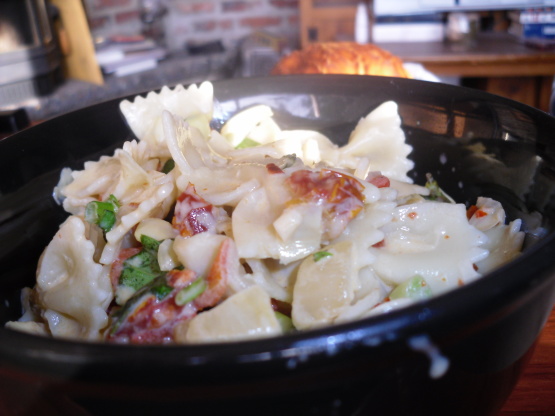 My variation of a "Build your Own Pasta Dish" concoction that I made up at the Macaroni Grill. Mine tastes better!!

Top Review by Geema
I had to run and get my grandbaby's bib, because I was drooling like her when I read this recipe. Kari, you have combined some classic ingredients and then added cream to make it perfectly heavenly. The red pepper flakes really add a taste tingling dimension that I just love. While nothing needs to be added, I'll bet some chicken breast pieces sauteed into the mix would be delicious too.
Cook Bowties according to package directions.
Reserve 1 cup of the cooking water.
Heat oil in a large pan.
Add garlic and onion, cook until translucent.
Add tomatoes and roasted peppers.
Cook for 3 minutes; stir in red pepper flakes.
Add artichoke hearts and cook for 3 minutes.
Add whipping cream and asiago cheese.
Allow to simmer until it starts to thicken.
Stir in basil and green onion.
Season with salt and pepper if desired.
Toss with bowties.
Add 1 cup reserved pasta water to make it saucier.