Elmotoo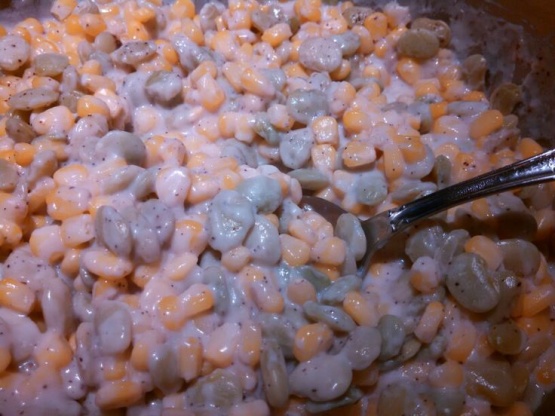 This recipe is taken from the Southern Living All-Time Favorites magazine. The ingredients are simple, but the finished product is a creamy concoction of down-home southern cuisine. Uses only 1/2 tsp. sugar and calls for milk vs. cream.

I really don't GET why people take issue with lima beans. WE all love them. This is a yummy recipe. I couldn't find shoepeg corn nor did I chop up the corn I did use. NOTE: both the limas & corn fit together in my large Pampered Chef microwave steam dish. I would add a bit more milk next time because this got really thick. A very easy recipe...make the white sauce while nuking your veggies. Voila! Made for Culinary Quest 2014/CCQ.
Cook lima beans according to package directions; drain and set aside. Pulse corn in a food processor 8-10 times or until coarsely chopped. Set aside.
Melt butter in a large skillet over medium high heat; add flour stirring until smooth. Cook, stirring constantly, 1 minute; stir in sugar, salt, and pepper. Gradually add milk, stirring until smooth.
Stir in chopped corn, and cook, stirring often, 12 to 15 minutes or until corn is tender and mixture is thickened. Stir in lima beans. Garnish with crumbled bacon, if desired, and serve immediately.