Creamy Stroganoff Meatballs
Annacia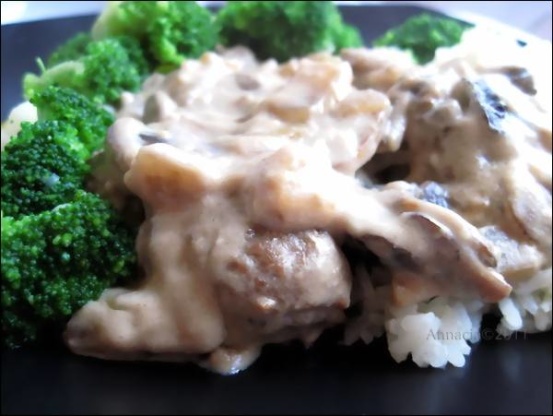 I decided I wanted to make stroganoff meatballs the other day, but realized I was missing sour cream. So, with a few substitions, this is the recipe I came up with. My husband and son loved it and it went very well with some peas and carrots I steamed with a bit of tarragon.

Mmmmm. I loved this. Used veggie meatless balls and 98% fat free cream cheese for a healthy and delicious main tonight. It very easy to make and used ti=hings that I most always have on hand. I'll certainly be coming back to this lovely recipe. Made for my adopted Pic-A-Chef baby Fall 2011 round.
Heat olive oil in deep skillet over medium heat. Saute' onions and mushrooms until onions are clear in color. Sprinkle dill, garlic powder and bouillon over onions and mushrooms while stirring. Add meatballs, 2 cups of water, worcestershire sauce and vinegar. Bring to boil. Cover, reduce heat to medium-low and simmer 10-15 minutes, stirring occasionally, until meatballs are heated through. Mix corn starch and 1/4 cold water until milky in texture. Add cream cheese and corn starch mixture to pan and stir constantly until gravy thickens.
Serve immediately over egg noodles or mashed potatoes or pasta.