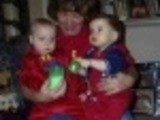 It's name says it all except - Yummy!!!!
2 cups strawberries
2 cups apple juice
3 cups whipped topping (Cool Whip will do)
Directions
Place half the strawberries and juice in the blender, cover, process.
Add half the whipped topping, cover process until blended.
Pour into glasses.
Repeat with other half of ingredients.
Most Helpful
This was really tasty! It was perfectly sweet and was a perfect treat for my kids and I yesterday afternoon! I used the light Cool Whip and it was still full of sweetness and flavor. Delicious!

Creamy, Filling, Light, Airy, Sweet! I used a lite topping and cut the recipe down for just little old me. Yes, I agree and Yummy! Thanks for my Breeze!