ImPat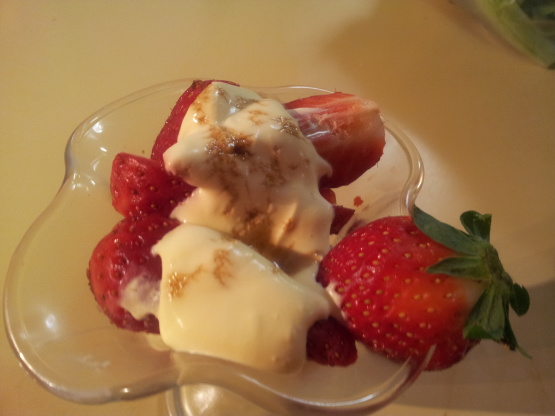 Fresh strawberries just can't be beat. This makes an easy and refreshing summertime dessert for a dinner party or a barbeque.

OHHHHHHHHHHH Tebo!!! Wonderfunnnn Summer dessert!! I used no fat sour cream (but contradicting myself, had real whipped cream!) and Grand Marnier(sp?) liqueur,picked the strawberries in the morning and used fresh mint from my new herb garden. Simple and scrumptious combination of flavours!!! This is a "must have again" dessert.
1⁄2 cup whipping cream or 1 cup Cool Whip
1⁄2 cup sour cream (low cal should be ok)

3

tablespoons orange liqueur or 6 tablespoons thawed orange juice concentrate

2

pints strawberries, hulled
mint sprig (to garnish)
Beat cream until stiff.
Fold in sour cream, liqueur or OJ concentrate.
Place berries in individual bowls.
Spoon cream mixture over top.
Sprinkle with brown sugar and garnish with mint.