Creamy Spinach Stuffed Salmon
Zurie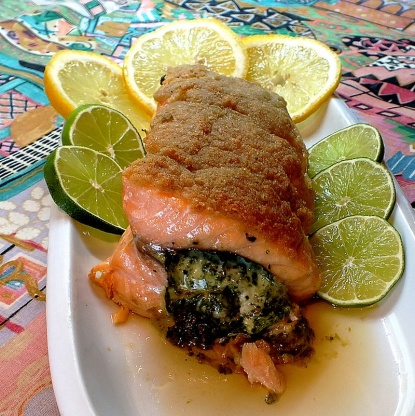 Gourmet Magazine gets the credit for this easy but impressive salmon recipe. Use the best quality cheese you can find for this dish.

The filling was very good and I liked the nutmeg addition. In fact, I added a little extra nutmeg. The salmon took about 15 min. to get done. I enjoyed this but DH thought it was no better than plain fish with no filling. Men! For an alternate presentation,I can see making this again and putting filling on plate and then topping with unfilled, coated salmon. This would be good with tuna or dolphin, too.
Squeeze spinach completely dry.
Place in small bowl and mix in cream cheese, mascarpone, and ground nutmeg.
Season to taste with salt and pepper.
Cut one 3/4-inch-deep, 2 1/2-inch-long slit down center of top side of each salmon fillet, forming pocket for spinach mixture.
Fill each slit with spinach mixture, dividing equally among salmon fillets.
(Can be made 4 hours ahead. Cover and chill.) Preheat oven to 450°F.
Brush rimmed baking sheet with olive oil.
Sprinkle salmon fillets with salt and pepper.
Mix breadcrumbs, melted butter, and Parmesan cheese in medium bowl.
Top each salmon fillet with breadcrumb mixture, pressing to adhere.
Place salmon fillets, skin side down, on prepared baking sheet.
Bake salmon until opaque in center, about 12 minutes.
Transfer to plates and serve.