Prep 30 mins
Cook 45 mins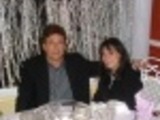 This recipe is perfect for vegetarians and you can use any chopped frozen vegetable, such as broccoli, instead of spinach.
Directions
Cook noodles according to package directions; drain. Meanwhile, preheat oven to 375 degrees. Coat 13x9-inch baking dish with cooking spray.
In large bowl combine ricotta, pesto, eggs and Parmesan; stir in spinach. combine Alfredo sauce with wine.
Arrange 3 noodles, overlapping slightly, in bottom of baking dish. Top with 1/2 of ricotta mixture, 1 cup mozzarella and 1/3 of sauce. Repeat with 3 noodles, remaining ricotta mixture, 1 cup mozzarella and 1/2 of the remaining sauce. Top with remaining 3 noodles, mozzarella and sauce. Sprinkle with breadcrumbs. Bake 45 minutes or until golden. Let stand 10 minutes before serving.
Most Helpful
Oh my! 100 STARS! This was SO good. Really a snap to put together and much more delicious and inexpensive than waiting in line for a table at the local Olive Garden. The spinach was delicious and creamy, and the cheesy sauce could not be anything less than wonderful! I need to just stop my babbling and just get to the point: IF SOMEONE ELSE DOESN'T TRY THIS RECIPE, THEY ARE MISSING OUT. Thanks for sharing- I hope this lasagna doesn't remain "our little secret" for long"!!!!!! ~Sue