Creamy Spinach Artichoke Pasta
waltonlm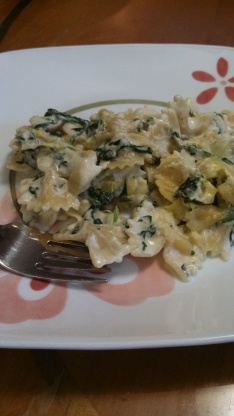 I clipped this out of a Woman's World magazine and made it for the first time last night and it's just too good!!!!!!

This is a great, one-pan, meatless meal. I used cavatappi pasta and fresh garlic. I also added freshly-ground nutmeg and some roasted red pepper (my palate likes a lot of spice, so for me it was a tad bland without), and baked it for 30 minutes. I used nonfat sour cream, and smaller amounts of the various cheeses (an 8-oz package neufchatel cream cheese, 3 oz reduced-fat swiss cheese, and 1 oz freshly-grated hard parmesan). Nevertheless, the taste was rich and flavorful, one I'll prepare again. Thanks for posting!
Preheat oven to 350.
Cook pasta according to directions, drain; return to pot; reserve.
In lge bowl at med speed beat cream cheese& sour cream until smooth; reduce speed to low; add milk, salt, garlic pwdr and hot sauce.
Beat until combined, 30 sec; stir in 1 1/2 cups swiss cheese, artichokes and spinach.
Pour over pasta; toss to combine.
Spoon pasta mixture into 6 cup shallow baking dish; sprinkle with remaining swiss cheese& parm cheese.
Bake until heated thru, 10 minutes.
If desired, to brown cheese broil 1 minute.