Creamy Spinach and Crab Meat Dip
DocNeon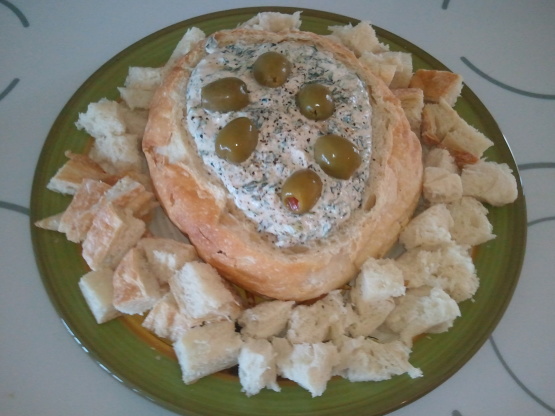 Simple dip great for entertaining. Once you taste it you keep coming back for more. Always a hit at parties.

Almost skipped this one because of the 3 stars. Lesson learned. Read the reviews before deciding to make or not make. Honestly? This was great! Company thought so too. I do not quite get the reviewer (who gave 1 star) that claims the crab meat was overpowering. Come on man! It's a MAIN ingredient! Anyway, here were a couple of additions I made. See pictures.<br/>1. Added some fresh ground pepper to the mix & to the top of the finished dip.<br/>2. Added large green olives to the top only (not the mix). Why? Hmmm, mainly because I thought it added to the presentation and I LOVE green olives!
1

(50 g) packet onion soup mix (spring onion continental)

2

cups sour cream

1

cup mayonnaise

1

(200 g) can crabmeat, drained

4

sliced spring onions

1

(400 g) packetfrozen spinach, thawed & drained

1

large loaf of round unsliced crusty bread
Mix powdered soup mix with sour cream and mayonnaise and refrigerate until soup mix softens (this can be done overnight if you like).
Stir in well the rest of the ingredients.
Take a large round unsliced bread loaf and cut a big circle from the top. Hollow the cavity out by pressing down on the bread. Make little cuts around the edges of the loaf near the rim of the circle.
Fill the loaf with the dip. The cuts allow people to tear bread off easily to dip. I usually chop up the bread 'lid' as well as it always gets dipped in and eaten.