Creamy Spiced Mushroom Soup (Low Fat and Vegan)
Prose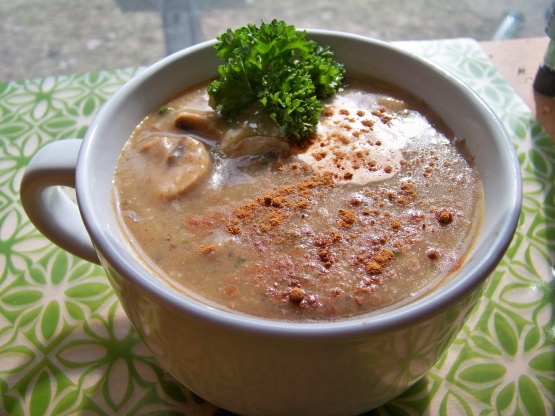 This soup is was inspired by a mushroom soup I had at an upscale Indian restaurant here in London. I love mushrooms and I really liked how the soup was spiced rather than spicy. That is just how I like spices to be used as I am a heat wimp when it comes to spices. So, I went home and tried to recreate the recipe in my own kitchen and I think I got pretty close. This is low fat and vegan friendly as potatoes are used as the 'creamy' eliminate rather than dairy. Of course, if you are okay with dairy a nice dollop of sour cream drizzled over the top of this when serving would certainly be nice too.

Top Review by Prose
Perfect! Now I don't have to miss cream of mushroom soup! I used 2 medium onions, 4 small potatoes, 1 medium carrot, 2 cups sliced mushrooms, and 4 cups vegetable stock. I was out of cilantro so I subbed fresh parsley. Since I am a mushroom lover, I sliced up some extra mushrooms (probably about a cup), sauteed them, and added them to the soup AFTER blending. I also stirred in a little soy milk. When I added the garam masala I wasn't convinced that it would be good in this soup but in the end the flavors were wonderful! This is highly recommended. Reviewed for Veg*an Swap, February 2010.
Heat the olive oil in big pan and then add the onion and cook softly for about 5 minutes to allow the onions to soften.
Add the garam masala and ground cilantro and stir into the onions.
Add the potato and carrots and just allow to heat through for 1 minute.
Add the mushrooms and the vegetable stock and bring to the boil.
Reduce the heat, cover and cook for 30 minutes.
Add the fresh cilantro and either transfer to a blender and blitz under smooth or use a hand held stick blender to whizz it up right there in the pan.
Return to the heat and add any salt if you think it is needed (I didn't need it) and just heat through again to serve.