Creamy Smooth Body and Hand Cream
Rita1652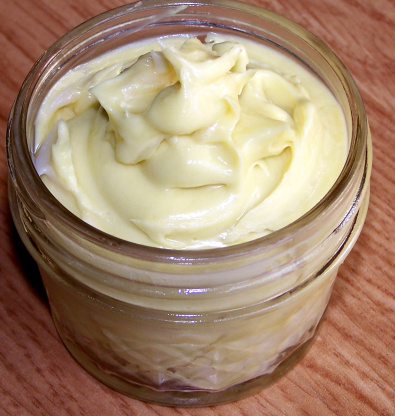 Chef #248023 inspired me to make this after I made her Body Butter Whip. Shea butter is known for its cosmetic properties as a moisturizer and emollient. As well as an anti-inflammatory agent. Shea butter can be effective at treating the following conditions: fading scars, eczema, burns, rashes, acne, severely dry skin, blemishes, dark spots, skin discolorations, chapped lips, stretchmarks, wrinkles and in lessening the irritation of psoriasis. Also provides natural UV sun protection but don't rely on it as a sunscreen because it filters out only little amounts of UV rays. Shea butter absorbs rapidly into the skin without leaving a greasy feeling. It can be bought on line.

As SAHS stated, this does take a while to thicken up so I I let it sit for fifteen minutes over the ice before attacking with the blender. It took less than a minute on the blenders lowest setting to whip up.
Like SAHS, I think this is a bit to oily. This is an excellent body lotion for my very dry skin, but it's a bit too greasy to use for hand cream.
I will definitely make this again, but halve the oil used.
6

ounces unrefined shea butter (softened in microwave or double boiler)
1⁄4 ounce cocoa butter (softened in microwave or double boiler)

6

ounces almond oil

1

teaspoon cornstarch
1⁄4 fluid ounce essential oil
Place lots of ice in a large bowl and place a metal bowl on the ice.
Mix the ingredients together in the metal bowl.
Sprinkle the cornstarch over the oils.
Whip with an electric hand mixer (not a stand mixer) and continue to beat.
Adding in the essential oils desired.
Continue to beat until light, fluffy thick and cool.
Place in a glass jar, store out of sunlight and use as needed.