Parsley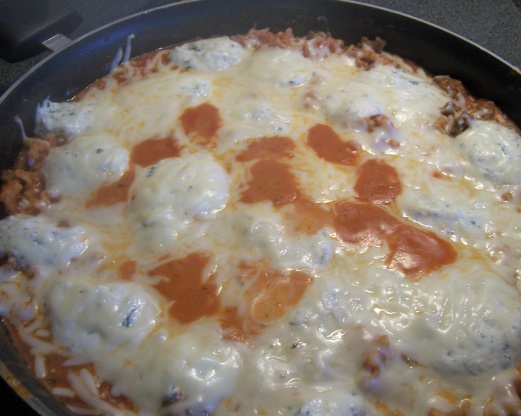 This is a nice creamy one dish meal. Have bread on hand to sop up any remaining sauce. Um yummy!

Easy weeknight meal. Very creamy. I substituted 28 oz jar of spaghetti sauce for the sauce called for in this recipe, (didn't have any tomato sauce on hand). I also stuck the skillet in the oven to brown the cheese a little. Kids cleaned their plates, and the leftovers were great for lunch the next day. Thanks for sharing!
Combine tomato sauce, olive oil, sugar, ital.
seasoning, salt, pepper, cinnamon, garlic.
Cook over med.
low heat while browning ground beef in seperate pan.
Drain beef and add to sauce.
Stir add water and pasta.
Bring to a boil.
Reduce heat to medium and cover.
Cook for about 12-15 minutes.
Or until noodles are very close to done.
Mix cottage cheese, sour cream, parmesan and parsley.
Mix half of mixture into pan, stir well.
Drop remaining mixture in spoonfuls over top.
Sprinkle with mozzarella cheese.
Cover and cook about 5 minutes until cheese has melted.
Let stand 5-10 minutes before serving.