Creamy Shrimp & Tortellini Salad
A creamy tortellini salad that's fit to serve company. I came up with this on an extremely warm day when I wanted to prepare dinner early and serve something cool. This can be adjusted according to amounts or type herbs you prefer.You can substitute chicken for the shrimp.Reduce fat by using low fat mayo and sour cream. Serve this one with a green salad and a glass of your favorite white wine.Cook time is prep and chill time
Directions
Cook tortellini according to package directions. Drain and set aside to cool.
Mix together sour cream, mayonnaise, basil and chives. Stir in lemon pepper and garlic powder and salt.
Add sour cream dressing mixture to the cooked tortellini and shrimp. Gently toss.
Chill at least 2 hours.
Most Helpful
This was really tasty. The fresh herbs in the dressing really added a lot of oomph. I used whole wheat cheese tortellini, which were fine. I think I would also like to play with the amounts of the sour cream and mayonnaise because the dressing didn't seem quite as creamy as I would have liked. But I will be playing with it, because I loved the flavors enough to want to try again. Thanks for sharing this. Made for Spring PAC 2010.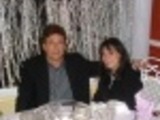 This was excellent! I did have to adapt it a bit for what I had on hand-- a pound of dried cheese & pesto filled tortellini and about a pound of regular sized shrimp, left over from a "shrimp boil" supper the other night. I didn't have enough sour cream so I used a bit of low fat plain yogurt ("Greek Style" from Trader Joe's) and I used Zatarain's Creole seasoning instead of lemon pepper (which I don't have). The fresh herbs were fantastic in this, and gave me a way to use some of the bounty from my herb garden. This stuff was sooooo good, even my husband loved it-- and he has NEVER liked any sort of cold pasta salad! With this recipe, I just may be able to convert him! :o)
I made this with an extra half teaspoon of dehydrated veggie flakes for colour and flavour. It was still a little too mayonnaise-y. Next time reduce the sauces to third cup and forget the extra salt. **UPDATE** I tried it again with refrigerated pasta and it is MUCH better. Still want to reduce the mayonnaise to a 1/4 cup and keep the sour cream at 1/2 cup. Also added a half cup of frozen peas and half a cup of corn for a little crunch. Just let them defrost or when you drain the pasta let the water fall on them . No cooking needed.