Creamy Shrimp Pasta Salad
Parsley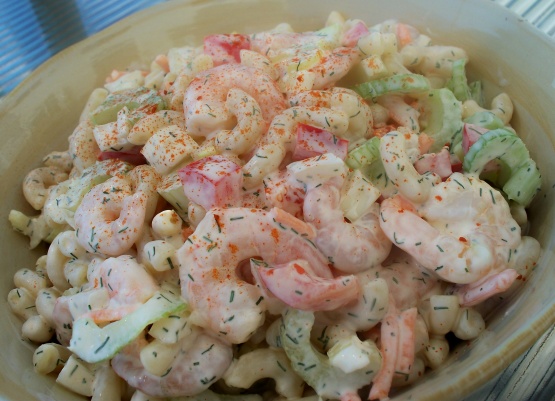 Yummy and well suited for summer entertaining. The colors make the dish pretty, but it's healthy and filling, too. Made with fat-free mayo, you can't go wrong.

This was wonderful and easy! I didn't have any salad shrimp...somehow they disappeared...so I did cook up some frozen shrimp cut them in good chunks and sprinkled some roasted red pepper and garlic seasoning on them. I then tossed them in the salad and made as directed. Served with a half of a ham and cheese sandwich for lunch. Thank you! Made for Spring PAC 09.
Put shrimp in colander and run under cool water to defrost.
Cook pasta according to package directions. Drain and run under cool water to stop cooking; drain again and place into large bowl.
Add shrimp and all vegetables to the pasta and stir lightly to distribute colors evenly.
In a separate medium-sized bowl, mix mayonnaise, spices and lemon juice. Whisk together to make a smooth dressing, and pour over pasta, shrimp and veggies.
Stir gently to coat all ingredients, cover, and chill at least two hours.
(If needed or wanted, a dollop or two more mayo may be added without changing other ingredients.).