Creamy Shrimp Casserole With Buttery Crumbs
flower7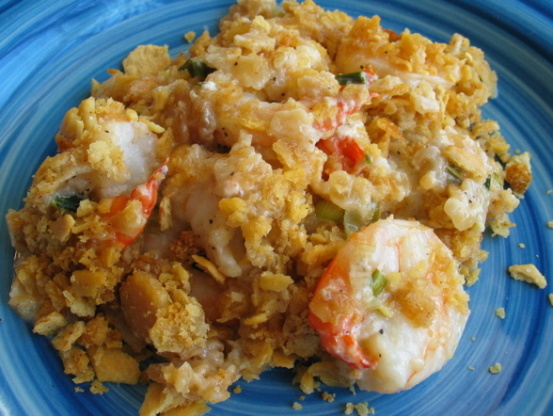 This is a wonderfully rich and creamy shrimp casserole with a nice flavor that is perfect for guests, potlucks or even a buffet spread, when you want to make something extra good and memorable. MAKE AHEAD: The recipe can be prepared through Step 4 and placed in the refrigerator overnight. Let stand at room temperature for about 20 minutes before proceeding to the next step. WINE: Spanish white wines with their bright citrus flavors will complement the shrimp and creaminess here and still hold up to the spices. Look for a Spanish wines like the Sierra Cantabria White 2003 or the 2004 Rias Baixas Bodegas Terras Gauda Albarino 'Abadia de San Campo'.

Top Review by jimani
This was just "okay" I can think of better things to do with 2 pounds of shrimp. I followed the recipe to a T and felt that for the all of the work, it just wasn't worth it. Hubby ate it, but wasn't impressesed, nor was I. I think a good shrimp scampi would be easier and better.
Butter a 3 1/2-quart casserole dish. Arrange shrimp in a single layer. Cover with plastic wrap and refrigerate.
In a medium saucepan, combine cream, sherry and shrimp shells with a pinch of salt and bring to a boil. Simmer on low for 25 minutes. Remove from stove and strain through a coarse sieve set over a large glass measuring cup or bowl; should yield about 2 1/2 cups.
Preheat the oven to 400°F.
Melt 1 tablespoon of butter in a medium skillet. Add scallions and cook over moderate heat, stirring, for about 3 minutes. Add the shrimp cream to the skillet and simmer until reduced (2 cups, about 5 minutes).
Pour the cream sauce into a bowl and stir in lemon juice and Worcestershire. Season with salt, pepper and hot sauce or cayenne; let cool until tepid. Season shrimp with salt and pepper and pour cream sauce over them.
Crush oyster crackers until you achieve coarse crumbs. Place in a medium bowl and add 4 tablespoons of melted butter and paprika and stir to coat. Sprinkle cracker crumbs over the shrimp and pat to smooth.
Bake in the center of the oven for 25 minutes, or until bubbling around the edge and the shrimp are JUST cooked through.
Remove from the oven and preheat broiler.
Broil casserole for 30 seconds, rotating, until top is an even golden browned.
Let stand at room temperature for 5 to 10 minutes before serving.