Creamy Scrambled Eggs in the Microwave
Linky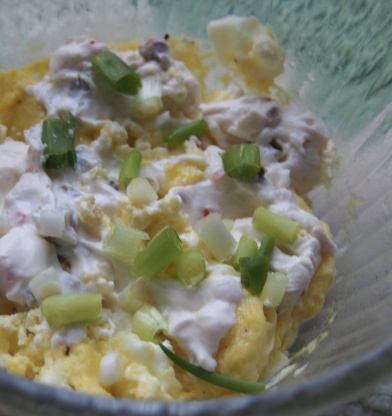 Creamy, fast, easy and only one dish to wash. This is so fast to make that you can easily repeat the recipe to feed a crowd. The cooking times are approximate, check every minute to see that the eggs are done to your liking. Serve with toast and fruit on the side.

Yum! This was delicious and satisfying! I cut it down to a single serving, using 2 eggs, 1 t. butter, 2 t. milk (I used evaporated milk) and used a wedge of Laughing Cow Creamy Swiss Cheese. Following the cooking directions, total time cooked in microwave was just over a minute. Served with a little salsa on top and the green onions made it extra tasty. Thanks so much for posting...it's a keeper!
In a 1 1/2- 2 inches deep glass baking dish or casserole, melt the butter in the microwave (20 seconds, aprox.) Add the eggs, the salt and pepper and the milk. Whisk to blend well. Microwave for 1 1/2 minutes and lightly mix. Repeat once more.
Sprinkle the cheese evenly and cook until cheese is melted and eggs are set to your liking. Remove from microwave and lightly mix. Serve hot, garnished with the green onions.