Creamy Sausage-Tomato Rotini
Parsley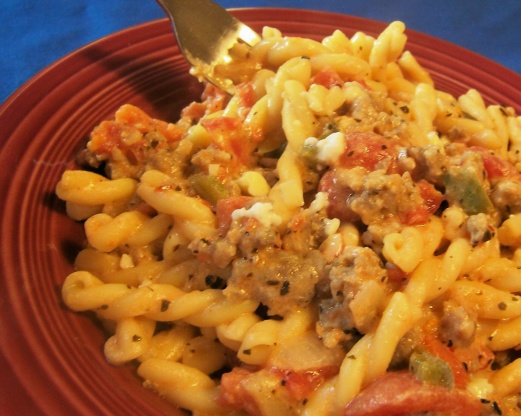 Additional Information 521 calories, 22 g total fat, 66 mg cholesterol, 1000 mg sodium, 58 g carbohydrate, 21 g protein, 0% vitamin A, 7% vitamin C, 18% calcium, 16% iron.

What a minute while I wipe my mouth off! LOL This does deserve more than five stars for the easy of making it, using things you have on hand and of course the AWESOME taste. This was enough pasta for five with a few seconds to go around. I will definately be making this on the nights I don't feel like cooking. If you don't like a really hot dish, just cut back on the red pepper flakes and purchase mild sausage. THANKS for posting.
In a heavy large skillet, cook the sausage, onion, garlic, and red pepper over medium heat until sausage is cooked through, stirring to break up pieces of sausage. Drain off excess fat.
Stir in undrained tomatoes; boil gently, uncovered, for 5 to 7 minutes or until most of the liquid has evaporated. Add half-and-half or light cream. Simmer 4 minutes or until mixture thickens slightly.
Meanwhile, cook pasta according to package directions. Drain; return to saucepan.
Add sauce to pasta; heat through, tossing to coat. Serve on warm plates. Sprinkle with basil. Pass the Romano.