Creamy Santa Fe Chicken and Rice
Really healthy recipe that tastes like it isn't!!! This is actually a variation of someone else's on this site. I'm on a diet where I'm trying to eat higher protein meals regularly throughout the day and this is perfect for an after work dinner that will be satisfying without breaking any rules. A portion of 1/6 of the pan, which is very satisfying, only has about 415 calories and packs 30 grams of protein!!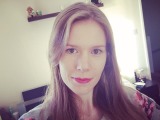 This was really tasty and definitely tasted like it had way more calories than it actually has! I used a paprika based taco seasoning, hence mine being quite red, but it's all I could find in my supermarket! I don't normally love cottage cheese, but because of all the other flavours going on I didn't notice it much; in fact it just added a nice flavour. Will definitely make this again!
Cook rice according to package, but instead of water, cook the rice in an equal amount of chicken broth plus the reserved tomato juice. (So, for example, if the rice package calls for to 4 cups of water, and you have 1 cup of reserved tomato juice, you will cook the rice in the tomato juice plus 3 cups of chicken broth instead of the water.).
While the rice is cooking, mix together the chilies, olives, tomatoes, corn, and cooked chicken in a large bowl.
Blend cottage cheese, greek yogurt, 1 cup of the chicken broth, salt, garlic powder, and taco seasoning until smooth.
When the rice is done, fold it into the chicken mixture. Then stir in the cottage cheese/greek yogurt mixture.
Bake at 350 for about 45 min or until it seems to hold together nicely.