Sageca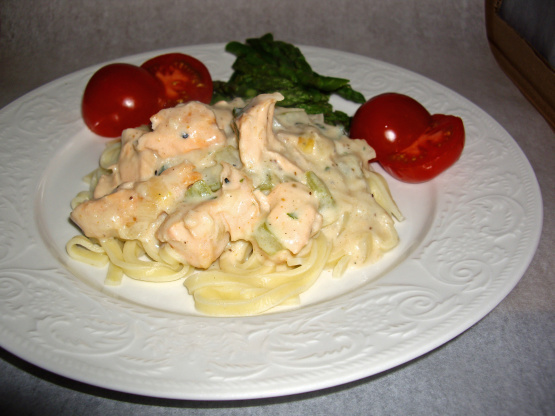 This recipe is something my mother used to make using canned salmon; she served it on toast. I made this recipe with leftover cooked salmon filet. Feel free to add your choice of vegetables and maybe a bit of Parmesan cheese.

Very nice! I used a little extra celery for added veggies, used a 14 oz can of salmon, de-boned and well drained, and used potato flour to make it gluten free. I also use a little garlic oil since I didn't have garlic handy, and mixed in a little yogurt and cream cheese into the milk mixture for added creaminess. It turned out delicious! Thanks for providing this great framework recipe to play with.
2

tablespoons butter

1

onion, finely chopped

2

celery ribs, finely chopped
1⁄2 teaspoon crushed garlic

2

tablespoons flour

2

cups milk
1⁄2 teaspoon Old Bay Seasoning

1

tablespoon parsley, chopped

2

cups salmon, cut in large chunks
salt and pepper
cooked linguine
In saucepan, melt butter.
Add and cook onions,garlic and celery for 5 minutes, stirring occasionally, or until softened.
Stir in flour; cook, stirring, for 30 seconds.
Gradually whisk in milk. Bring to a boil, stirring frequently. Boil for 2 to 3 minutes or until slightly thickened.
Add parley.
Gently stir in salmon being careful not to crush it; Set aside.
Taste to check if you need to add salt and pepper.
On each plate containing the cooked pasta spoon on the creamy salmon sauce.
Serve immediately.
A side of green vegetables makes a lovely presentation.
I used light Becel intead of butter and 1% milk to make it healthier.