Creamy Roasted Garlic Hummus
Izy Hossack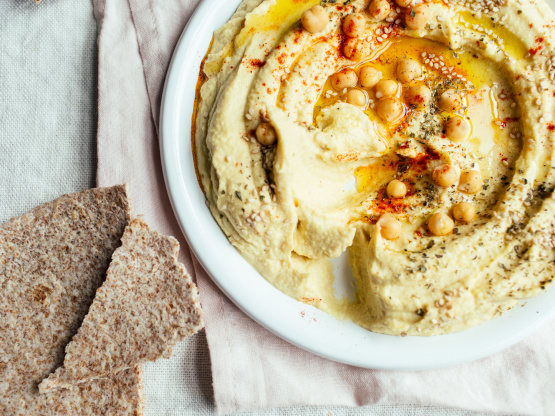 This is truly the perfect hummus, in my humble opinion. Roasting the garlic brings out its nutty and sweet flavor and cuts down on the sharpness. It's well worth the time! Try it, I don't think you'll be disappointed.

This is my go-to recipe for roasted garlic hummus. I always make it in advance. It has replaced our need to buy garlic hummus from Trader Joe's. I follow the recipe exactly and at least double or triple the amount of roasted garlic and add about 1/4 tsp cumin. The recipe also calls for 2 cups chickpeas. I just use 1 can (16oz), which when drained only yields about 1.5 cups chickpeas, which works fine. I have noticed that the mixture is runny and is very lemony immediately after a spin in the food processor. Don't worry, within a day or two, the mixture will thicken and the flavors will develop really nicely. Just be patient and make this ahead of time.
Preheat oven to 375°F Cut off the very top of the garlic clove (about 1/4") so that the tops of most of the cloves are exposed slightly. Coat with a little olive oil and wrap securely in tin foil. Roast garlic in oven for 1 hour. Remove and allow to cool.
Using your fingers, squeeze the soft, roasted garlic out of each clove into food processor. Rinse and drain cooked or canned chickpeas. Add them, and all other ingredients, to the food processor and blend until completely smooth.
Scrape ingredients off sides of food processor to make sure it blends evenly. If you find that the hummus is too thick, you can add additional olive oil at this time. Add it very slowly, allowing the mixture to combine fully before adding more liquid.
Serve at room temperature with crudites, warm pita or crackers.
Optional: Sprinkle with chopped parsley or paprika before serving.