Hanka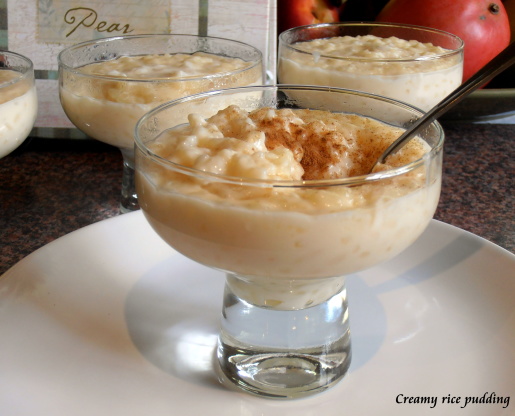 The secret to a creamy rice pudding is lots of liquid and short grain rice - arborio. You may think there is too much milk in the recipe but trust me it works! Stir once in a while to prevent rice from sticking to the bottom. Sprinkle with cinnamon or nutmeg just before serving. It is delicious warm or cold.

When I was a little girl, my grandma would make me rice pudding when I was sick. I decided to make this for my son the other night because he had just gotten over the flu. Our store was out of short grain rice, so I had to sub a medium grain (will purchase a short grain in the future). I have to admit, I did think that there was going to be way to much liquid... I was really surprised when all the liquid was absorbed. I did make one slight change to the recipe (other then using the medium grain rice) and that was to sub thin strips of orange rind in place of the lemon rind because I do not like lemon flavor in desserts. The orange pared so well with the rice and cinnamon. I will definitely be making this again. Made and reviewed a couple days late for the 62nd AUS/NZ Recipe Swap.
In a large saucepan bring milk to the boil.
Add rice, cinnamon stick, lemon peel, sugar. Lower the heat and let it gently simmer for 30min.
Stir once in a while.
Add light cream and keep cooking for 20min.
Spoon into 4 bowls or glasses. Cover with plastic wrap, refrigerate.