Nif_H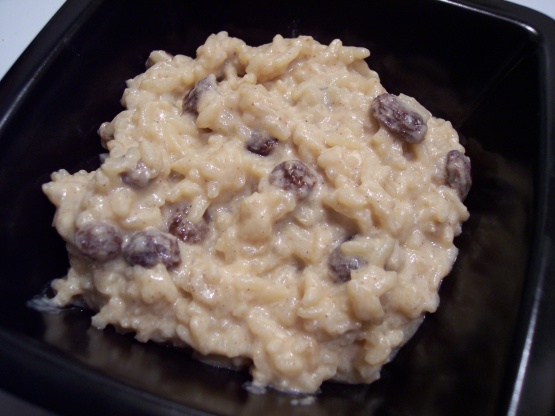 I made a non-dairy version of this easy recipe with almond milk instead of regular milk, and it was delicious. Because I used sweet almond milk from the Italian market, I eliminated the granulated sugar and it was sweet enough. I also used golden raisins, which complemented the almond flavor very well. Try it!
In a 2-quart saucepan, bring water to a boil.
Add rice and raisins to pan, cover, and simmer over medium-low heat for 20 minutes.
Add 1 1/2 cups milk, sugar, salt, cinnamon and nutmeg to pan; increase heat to medium; simmer, stirring occasionally, until thick and creamy, 15-20 minutes.
Stir in remaining milk and egg; cook an additional 2 minutes, stirring constantly.
Remove from heat and stir in butter and extract.