Creamy Rice and Mushroom Bake
Kim D.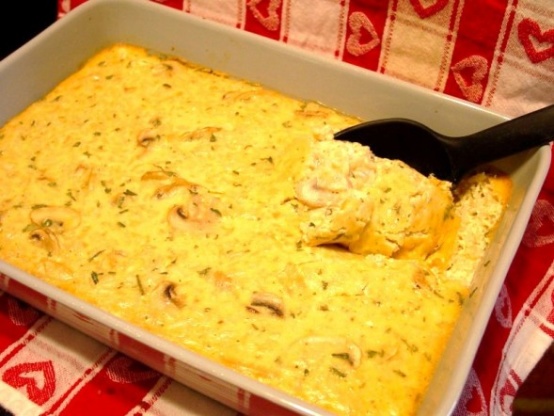 Around Mom and Dad's, this would only be eaten by Mom, Chris, and me. Pop wouldn't really get excited over rice and shrooms. I DO, however. I love them both. This is easy and good with beef or chicken.

I followed the recipe. The first night it was moist, but didn't taste too great. The flavor was a bit overwhelming mushroomy. The next day it tasted pretty good, but be careful in the reheating or it will dry. I would put this together a day ahead, and then bake, and hopefully get the flavor and the moist texture.
Preheat oven to 350º F.
Grease 11 x 7-inch baking dish.
Melt margarine in large skillet over medium heat.
Add mushrooms, onion, garlic and Worcestershire sauce; cook, stirring occasionally, for 3 to 4 minutes or until mushrooms are soft.
Beat cream cheese and eggs in large mixer bowl until creamy.
Mix in evaporated milk, parsley, salt, and pepper.
Stir in rice and mushroom mixture.
Pour into prepared casserole dish.
Bake for 35 to 40 minutes or until set and light brown around edges.