Linky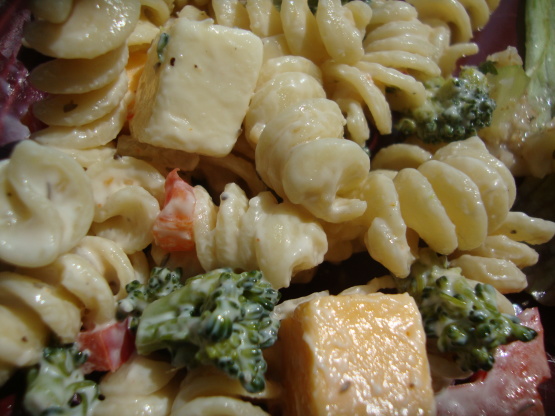 My husband's favorite - he'll put away the whole batch in two days. Not the lightest pasta salad, but very tasty and refreshing on a hot day. This is a great side with sandwiches, chicken, burgers, etc., or it makes a good lunch by itself. This is very flexible, so feel free to add/omit veggies, adjust seasonings or increase/decrease dressing as you see fit.
Cook pasta in a large pot of salted water. When pasta is almost tender (about 2 minutes from done) add broccoli. Return to a boil and continue cooking until pasta is al dente and broccoli is crisp-tender. Drain and rinse with cold water. Drain again and return to pot; add bell pepper and chill while preparing dressing.
Prepare dressing by combining all ingredients in a medium-sized bowl and stirring thoroughly. Taste and adjust seasonings.
When salad is cool enough, add cheese cubes (you don't want them to melt) and dressing. Stir well to combine and transfer to a large bowl or casserole dish. Serve chilled.