Chill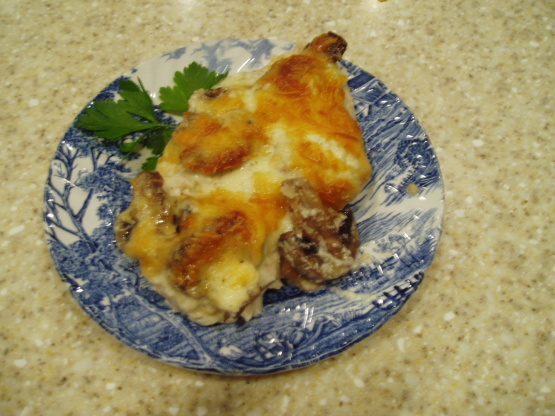 This is a great low-carb baked chicken meal! I add fresh herbs (rosemary, thyme...) from the garden. Serve with a nice salad, fresh green beans and you won't even miss the carbs!

This is really a delicious chicken dish. The only problem I had was the "sauce" was a little on the thin side, but I just added another 1/4 cup of parmesean cheese and it helped thicken it up. I took the chicken and mushrooms out and plated it then added some cooked whole wheat rotini to the sauce and made a really yummy "cheesy noodles" side dish. Thanks for this great recipe :)
Lay chicken in baking pan (just large enough so chicken covers pan; not too big!) Cover chicken with mushrooms.
Mix sour cream, mayo, cream and dressing mix together.
Pour over chicken, covering all pieces.
Top with grated cheese.
Bake at 375 for 45-60 minutes (until chicken is done and top is golden).