Creamy Ranch Broccoli and Cheese
megs_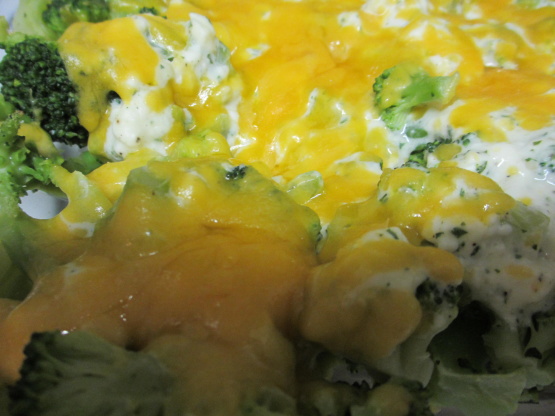 A yummy new way to serve broccoli.

This was a very nice change in how we eat broccoli. The ranch flavor was subtle, I used 2 TBSP homemade ranch mix and nextime I wil probably bump that up to 3 TBSP. Used reduced fat cream cheese and skim milk, still tasted rich and creamy. Added 2 cups leftover roasted chicken before baking and served over pasta for a very nice meal. 15 month old son inhaled the chicken and broccoli, DH said its a make again. Thanks for posting!
Preheat oven to 350°F.
Place cream cheese, milk and Ranch dressing mix in a food processor or blender and process until smooth.
Place broccoli in a 9 inch baking dish, add cream cheese mixture and stir.
Top with Cheddar cheese and bake 25 minutes or until cheese has melted.