Parsley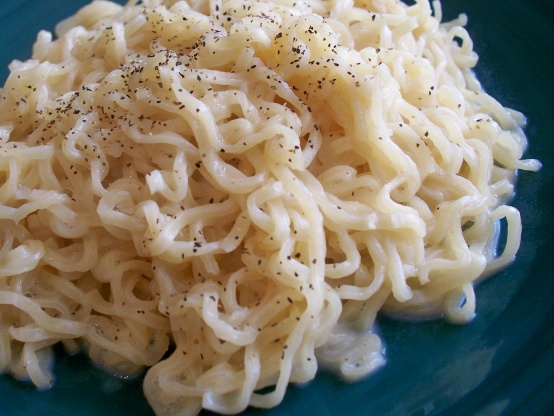 A really special friend shared this recipe with me several years ago. It was his trick for dressing up those inexpensive noodles for his kids, and I think it is very good. This is great on its own as a quick meal, but can be an easy side for many dishes. We prefer the chicken or beef flavored noodles for this.

This is especially good to break up a slice of American cheese and melt it in giving the ramen a creamy cheese sauce!
1

(3 ounce) package ramen noodles, any flavor, with seasoning packet

2

cups water

2

tablespoons butter
1⁄4 cup milk
Bring water to boil in a small sauce pan.
Add dried noodles and cook 3 minutes, or until noodles are tender. Stir occasionally.
Drain away water. Return noodles to sauce pan.
Add butter, milk and contents of seasoning packet.
If your tastes desire, you may not use all of the seasoning packet.
Heat on low heat and stir until butter is melted and noodles are coated with creamy sauce.
Serve.