Parsley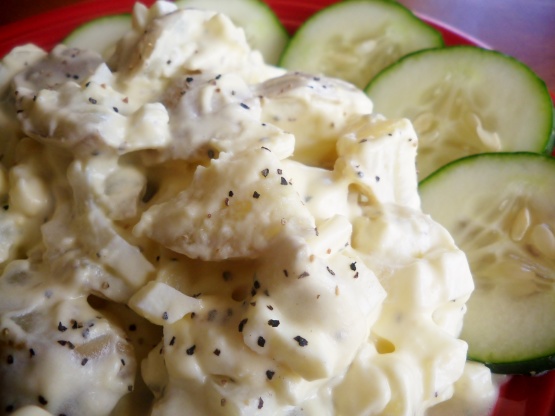 Yes, I realize that people have their own potato salad memories. Some like crunch, some think that eggs are not even on the possibility list and other different feelings about how a proper potato salad should be. This is a HUGE hit in my family. It is highly caloric and pays no heed to cholesterol. DO NOT use miracle whip as the vinegar in the dressing will mess up the balance in the recipe.

I love all kinds of potato salad, from "kitchen sink" varieties to simple ones like this. This is a perfect, no-crunchies, creamy potato salad that still has great flavor. It's simple to make and satisfies your potato salad craving. I made this just as written and agree with the recipe intro: do not use Miracle Whip. Thanx for sharing!
Scrub potatoes and boil, in the skins, in heavily salted boiling water. This usually takes about 25 minutes. Potatoes can vary in density and of course size, so keep checking until a knife is inserted easily with no give evident.
Remove potatoes from boiling water and let cook until you are able to handle them. Keep them as hot as you can though, just don't burn yourself. Nothing is worth that. Peel the potatoes, then cut into small, bite sized cubes.
Sprinkle the hot potatoes with 1 tablespoon of the vinegar. Toss together and set aside to cool thoroughly.
In a separate bowl, mash the eggs. Add the onions, mayonnaise, mustard, salt and pepper. Hold back on the mayonnaise to get the right consistency. You want a final product that will coat the potatoes without sinking to the bottom of the dish, but not so thick that the dressings flavor won't get absorbed into the potatoes.
Mix everything together and chill. Check for seasonings and add more salt, pepper or vinegar as necessary.