Creamy Potato Parsley Soup (But Without the Cream!)
Junebug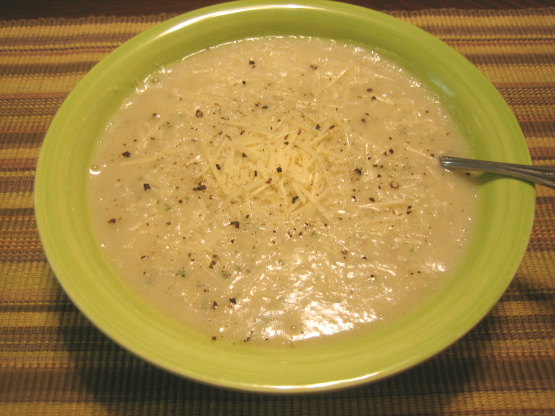 I found this recipe in the book that was packaged along with my microwave. I haven't tried it yet, but it sounds fabulous!

Went together easily (used the little gadget we use to cut french fries to make cubing go faster) and fairly hands-off. We both liked it, esp. after adding a little salt & pepper. Cornflour did not thicken in microwave. 3 smallish potatoes made 3 bowls of soup. We think we can improve on this but it was certainly yummy enough to finish in one sitting.
Combine potatoes, onion, salt and broth in a medium casserole, and add parsley.
Cook, covered, at HIGH for 12 to 13 minutes in a microwave, or until potatoes are tender.
Combine cornflour with a small amount of cold milk.
Stir into potato mixture, and add the remaining milk.
Cook at HIGH for 6 to 7 minutes, or until mixture comes to a boil and is piping hot.
Stir once or twice during cooking.
Serve hot with crisp croutons, or toasted bread.
For Vegetarian use vegetable broth or water.