Debi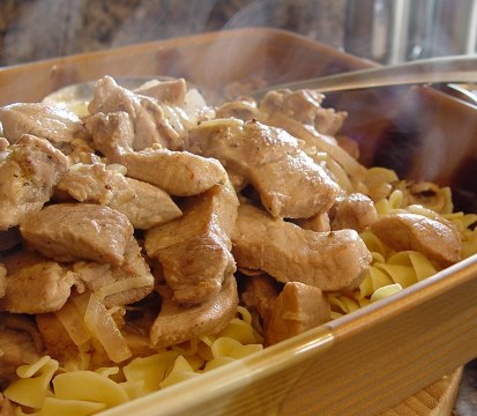 A creamy stroganoff using "The Other White Meat". Marinating the pork for 1 hour up to 8 hours is optional, but recommended. Serve over buttered noodles or fluffy white rice. Cook time includes 1 hour marinating time.

Really, really good. I made a few adjustments due to what I had on hand, adding some more color, and cutting a few calories. I used all yellow onion, chicken stock instead of wine, buttermilk instead of the heavy cream and creme fraiche (the buttermilk separated, but the flavor was excellent), and only 1 tablespoon of butter. I also added a pound of fresh spinach, which I cooked down first, took the spinach out of the skillet to drain, and left whatever moisture was left in the pan to saute with the butter. Instead of sauteeing the onion, then the pork, I just put it all in together. I did marinate the pork in lime (no lemons in the house) juice and mustard (omitted the honey to cut calories), then added the marinade to the pan with the pork, onions and mushrooms. Wonderful flavor and the meat cut so easily with just a fork! Next time, I'm going to make sure to have some plain yogurt on hand to use instead of buttermilk.
Optional Marinade:.
In a shallow non metal dish, mix together lemon juice, lime juice, honey, and dry mustard. Add pork strips and mix to coat. Cover and refrigerate 1-8 hours. Remove pork and discard remaining marinade.
Melt the butter and oil in heavy frying pan,(I use my dutch oven).
Add onions and cook to soften for 3 - 4 minutes.
Remove the onions with a slotted spoon to a small bowl.
Increase pan heat to medium high, when hot add pork, stirring continuously until browned,(If the pork seems too crowded in your frying pan,you can fry the pork in 2 batches and just add it back to the pan when done browning).
Add mushrooms, onions, mustard, and wine. Bring to a vigorous simmer.
Add the creme fraiche and season with a little salt and freshly ground black pepper.
Bring to vigorous simmer and cook until reduced to a creamy consistancy.
Remove from heat and stir in heavy cream.
Serve over a bed of rice or noodles.