Debi9400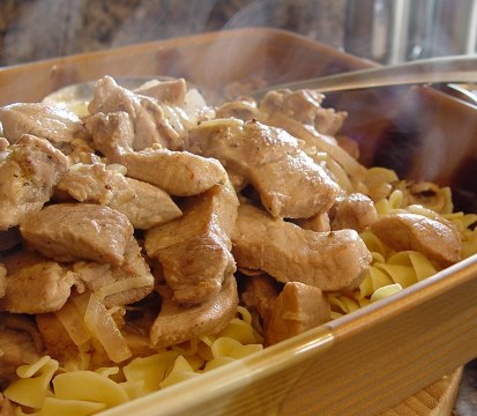 A creamy stroganoff using "The Other White Meat". Marinating the pork for 1 hour up to 8 hours is optional, but recommended. Serve over buttered noodles or fluffy white rice. Cook time includes 1 hour marinating time.
I have done the pork strips before but found them to be a bit tough unless marinated and pounded thin then sliced thin, I also tried ground pork and to my surprise it was really good...I added some cheese w lowfat milk, frozen peas and used egg noodles, but for anyone on a budget this is a nice alternative.
Optional Marinade:.
In a shallow non metal dish, mix together lemon juice, lime juice, honey, and dry mustard. Add pork strips and mix to coat. Cover and refrigerate 1-8 hours. Remove pork and discard remaining marinade.
Melt the butter and oil in heavy frying pan,(I use my dutch oven).
Add onions and cook to soften for 3 - 4 minutes.
Remove the onions with a slotted spoon to a small bowl.
Increase pan heat to medium high, when hot add pork, stirring continuously until browned,(If the pork seems too crowded in your frying pan,you can fry the pork in 2 batches and just add it back to the pan when done browning).
Add mushrooms, onions, mustard, and wine. Bring to a vigorous simmer.
Add the creme fraiche and season with a little salt and freshly ground black pepper.
Bring to vigorous simmer and cook until reduced to a creamy consistancy.
Remove from heat and stir in heavy cream.
Serve over a bed of rice or noodles.