Creamy Pork Chops Casserole
Nimz1466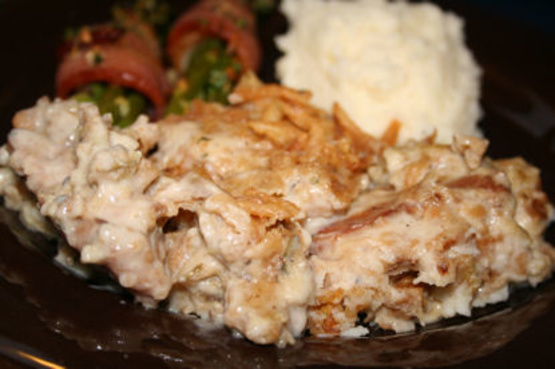 This is a super easy casserole to throw together and tastes great! Even leftovers are yummy! I got it from a Better Homes and Gardens cookbook.
Trim fat from chops. In a shallow dish, combine flour, salt, and pepper.
Coat chops with mixture.
In a large skillet, cook chops in hot oil until browned on both sides (4-5 minutes per side). Remove from heat.
In a bowl, stir together soup, sour cream, chicken broth and rosemary. Stir in half of the french fried onions.
Pour into an ungreased 9x13 baking dish. Top with the browned chops.
Bake, covered, at 350 degrees for 25 minutes. Uncover, sprinkle with remaining onions and bake for an additional 5 to 10 minutes, or until juices from chops run clear.
Serve over hot cooked egg noodles.