Creamy Pizza Sauce and Topping
mliss29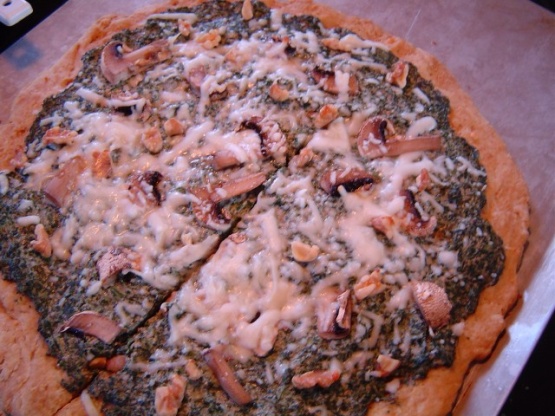 A delicious healthy alternative to traditional cheese topping. I came up with this because I wanted a pesto type sauce for my pizza that provided more protein and less fat than traditional pesto. Also good as a sauce for pasta.

This is a tasty pizza sauce. I used spinach and basil and loved the taste of both. We omitted the parmesan. We topped it with artichoke hearts, onions, garlic olives and soyrizo. My only gripe (which does not have any bearing on the stars) is that this recipe is catagorized as vegan below, but has cheese in it. It is not vegan if it contains dairy cheese. This recipe makes a ton, more than what we needed for one large pizza. Thanks for posting, I would make this again.
Place all ingredients in food processor and blend until smooth - make sure there are no tofu bits visible.
Spread the mixture on a 16" (approx) pizza crust of your choice. Whole grain crust is healthiest.
Top with your favorite toppings such as mushrooms, black olives, chopped artichoke hearts, baby spinach, etc.
If you wish you can sprinkle a little parmesan or other grated cheese on top as well.
Bake like regular pizza - I use a 400 degree oven until hot in center, about 12 minute.
Notes: Silken tofu is the kind that comes in the aseptic shelf-stable boxes. As a variation, you can use chopped frozen spinach that is thawed and squeezed dry in place of basil.