Creamy Penne With Prosciutto, Pimiento and Peas
teresas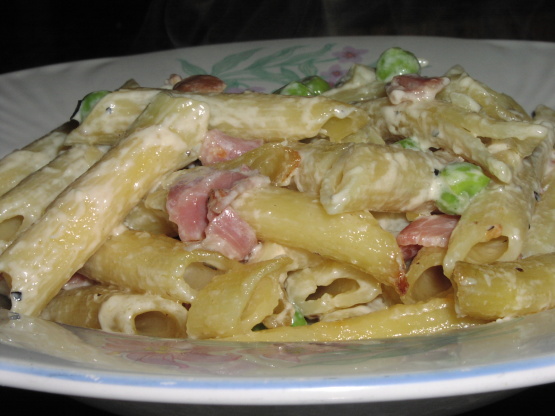 My mother, who was an avid cook, had a stroke 10 years ago and can no longer practice her favorite pasttime. However, she still collects recipes. I go over to her house and cook under her direction. She likes to tweak recipes she has read or seen on TV until she gets them to her liking, and then we write them down. This is one of them!

This is like comfort food...all nice and creamy...I made the full amount and gave half to my daughter and her family...we had some leftover and it heated up great in the microwave with a little added cream...this makes more like 6-8 servings...I did double the prociutto and used roasted red peppers in place of the pimientos...made for FYC tag game...=)
Preheat oven to 375 degrees.
In a small heavy saucepan over medium heat, bring cream, 1-1/2 cups cheese, pepper and salt just to a boil, stirring occasionally.
Remove from heat.
Meanwhile, cook pasta according to package directions until al dente; drain. Return pasta to pot, stir in prosciutto, peas, pimiento and cream sauce, mixing well and making sure pasta is well-coated. Transfer to a 2-quart shallow baking dish and bake 15 minutes.
Stir pasta well to redistribute sauce, then sprinkle with additional Parmesan cheese (about 2 T.). Turn on broiler and broiler about 2-4 minutes, until top is lightly browned.