Creamy Peanut Butter Brownies
flower7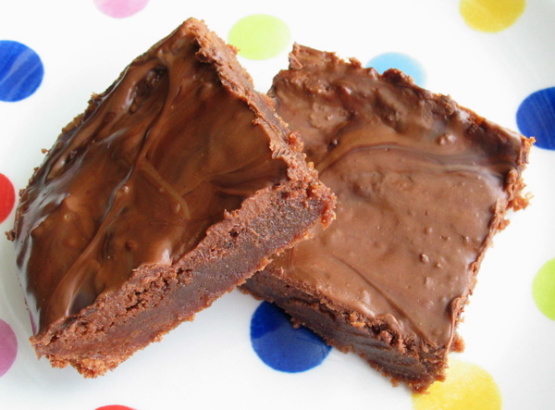 Peanut butter and chocolate in yet another love affair.

Didn't care for. It went together quickly, but I felt the final product was grainy - like the sugar didn't mix well with the rest of the batter. They were also very sweet.
Brownies

4

BAKER'S Semi-Sweet Chocolate (chopped)
3⁄4 cup butter

3

eggs
1 1⁄2 cups sugar

1

cup all-purpose flour

Topping

2

BAKER'S Semi-Sweet Chocolate (chopped)
1⁄2 cup smooth peanut butter (if you want more chocolate, subsitute the peanut butter with 1/2 cup of Nutella)
Pre-heat oven to 350 C, and grease a 9X13 inch baking pan. Combine the sweetened chocolate with butter in microwave-safe bowl and microwave for 3 minutes on medium heat. Stir together until the chocolate chunks are completely melted.
Put in the eggs and mix together well. Combine the melted chocolate and butter with the sugar and flour, and mix until well blended. Pour into a greased 9 X 13 inch baking pan, and bake for 30 minutes.
For the topping, drop spoonfuls of peanut butter, and the remaining chocolate on top of the brownies right after you remove them from the oven and spread with a spatula. Cool completely, and enjoy!