Creamy Pasta Salad With Tuna and Vegetables (Low Fat)
Prep 15 mins
Cook 10 mins

Prepare this salad a few hours in advance to allow the flavours to blend and mellow. You may use other fresh herbs instead of dill or just more parsley if you like. You may leave out the tuna if serving as a side dish with meat. I like the fresh flavour of this salad. It keeps well in the fridge for a couple of days.
8 ounces rotini pasta, cooked, rinsed under cold water and drained well
1 sweet red pepper, seeded and diced
1 cucumber, peeled and diced
3 green onions, sliced
1 (7 ounce) can tuna in water, drained and flaked

For the dressing

1 teaspoon Dijon mustard
3⁄4 cup plain nonfat yogurt
1⁄3 cup reduced-fat mayonnaise
2 tablespoons Italian parsley, chopped
1 -2 tablespoon dill weed, chopped
salt, to taste
black pepper, to taste
Directions
Combine rotini, red pepper, cucumber, green onions and tuna in a large bowl and set aside.
In a medium bowl whisk all dressing ingredients.
Pour dressing over salad ingredients and stir well.
Refrigerate, covered, at least 2 hours before serving.
Most Helpful
Very tasty and simple to make. I will defintely be making this one regularly!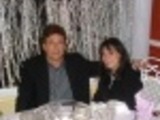 We LOVED it! And so simple and quick to make and moreover so flavourful! I eye-stimated the quantities and was generous with the mustard! I used fresh dill and parsley. DH is not a big fan of 'cold' pasta so he had his without the pasta :rolleyes: We loved the dressing! I shall definitely try it next time as a dip as well! Thank you, Cookin-jo, for sharing your wonderful recipe!

A lovely basic and quick fixin tuna salad. Used dried dill but will cut back on the amount next time as it over powered the other flavours