Creamy Pasta and Cheese Ww Style
Janni402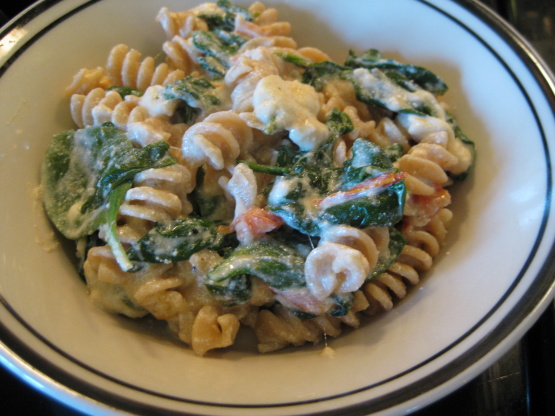 My mother used to make mac n' cheese with mozzarella, ricotta cheese and tomatoes -- although her's was a lot higher in the calorie/fat count than this delicious version, everyone gobbled this one up! At first the green spinach seemed a bit strange and unfamiliar in mac n' cheese, but my family got past that in a hurry as they filled their plates up with more of this mac n' cheese. Although the original recipe called for capellini, but I used rotini, which looks more like the traditional mac n' cheese that we know and love. Recipe source: WW Magazine (March 2008) If you are following the WW flex plan this is 6 points/serving. Sometimes it's hard to find fat-free cheese, you can also use part-skim or skim cheese and add a point or so if following the WW flex plan. I used part skim mozzarella and part skim ricotta and I counted it as 8 points.

I used macaroni noodles (as in kraft mac and cheese, lol.) It was great! I loved the complexity of the flavors and the texture was great. Next time I'll make it with spirals and grilled chicken.
Cook the pasta according to package directions; drain but reserve 1/4 cup or so of the cooking liquid.
While the pasta is cooking start preparing the sauce.
In a large skillet heat the oil over medium high heat. Add tomatoes and garlic to skillet; cook, stirring frequently for 2 -3 minutes or until tomatoes are softened.
Stir in spinach in batches; stirring until wilted.
Add the cooked pasta, reserved cooking liquid, cheeses and salt. Cook, stirring frequently until cheese is melted.