Creamy Parmesan Potato Soup
Parsley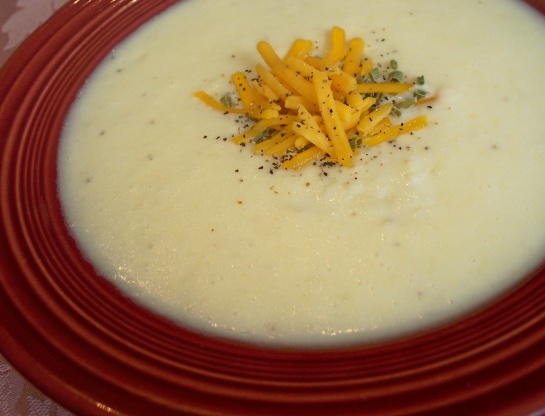 This is an easy and quick soup to prepare. And the flavor is wonderful! I hope you think so too!

I was in the mood for a good potato soup and this is great! My daughter said this is her favorite soup! I actually make alot of potato soups, and loved the Parmesan in this one. Thanks for a keeper!!!
Add potatoes and onions to boiling water.
Cook about 15-20 minutes until done.
Drain and return to pot.
Lightly mash, leaving it as chunky as you like.
(I prefer mine fairly smooth with small pieces here and there.) Return pan to medium low heat and add butter, cream cheese and milk, stirring until butter and cream cheese melt.
Add all other ingredients and cook, stirring occasionally until parmesan cheese is melted.
Adjust salt and pepper.
If soup is too thick add more milk and if it is too thin add more cheese.