ChefLee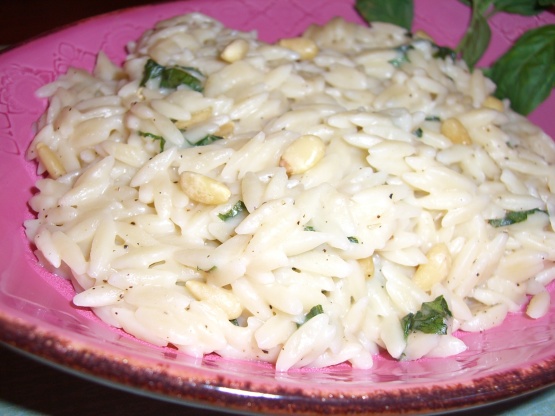 From Cooking Light, this is a wonderful side or light main dish. It is good even without the pine nuts if you don't have them on hand, also any herb will work for the basil, you just may need a little more or less depending on the herb.

So easy my 3y/o DD helped me make it for lunch. The only difference was that we added garlic and it was a nice change to the mac&cheese she wanted :)
Heat butter in a medium saucepan over medium heat. Add orzo and cook 3 minutes, stirring constantly.
Stir in broth and water; bring to a boil. Reduce heat and simmer until liquid is absorbed, and orzo is done, about 15 minutes.
Remove from heat; stir in cheese, basil, salt and pepper. Sprinkle with pine nuts. Serve immediately.